The Idea: Finding out about the Big Ride
Day -209 (Nov 15, 1998)
There were 209 days before the the start of "The Big Ride", when I first found out about it.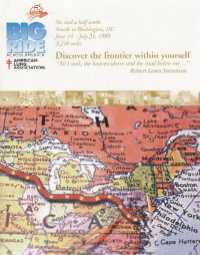 I wonder how many great ideas are borne while sitting on the crapper? Well,for me, the Big Ride was one of them. I was getting ready to go to work, just like any other workday. While browsing through a sample copy of the October, 1999 issue of Bicycling magazine, I spied an ad for the American Lung Association's "BIG RIDE" across America. "Most people do this in an airplane," the ad said, with a map of the United States and a large arrow from coast-to-coast, "WIMPS!". The ad summarized the purpose of the ride, number of anticipated riders (a thousand, but this number was later lessened to five hundred, and now with the ride almost a week away, looks more like 250 riders ... the number of participants ended up being 137 ).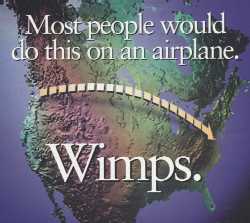 As soon as I was able (after I flushed) I called the toll-free number to get more information. I left my name and number, requesting an information packet. I was excited. I was committed to the ride immediately on seeing the ad in the magazine. I wanted to retire from work super early (I'm 39 as of this writing). What better way to kick off a retirement of adventure than to bicycle caross America and support the American Lung Association? There was one major hurdle to overcome: raising the $7,000 required to participate in the ride. "I've never raised that kind of money," I said to my girlfriend, whom I called immediately after calling the Big Ride office. She took my desire to spend the summer riding a bike with the grace that comes from years worth of such bold statements (you see, I'm a dreamer and I've been dating Pat for nearly 10 years). She knows much of what I dream has yet to come to fruition.
I had fate on my side, however. Not three months ago, while attending a local professional luncheon, held in a Chinese restaurant, I received a most interesting fortune. "Next summer you will dance to a different drum," the fortune read.

Inspired, I clipped it out and taped it to my office shelf. "Early Retirement," is how I interpreted the fortune, but now, I'm thinking it was referring to the BIG RIDE! Fate, or, the power of suggestion? Either way, I was going on the BIG RIDE. Forget about the daunting donation total or the fact that I've never ridden a bicycle more than 35 miles!
I waited for the information packet to arrive in the mail. It took forever to arrive. One week past. Another. I called and left a message again. Finally, about a week before Christmas, I received the introductory packet of BIG RIDE materials. I poured over them. The section on fundraising was scary. I focused instead on the physical training, (something that I thought I could do). Maybe. Wow, I'd have to train nearly every day?! I needed equipment,training, and pledges. I sighed, put the material away and went on Christmas vacation with Pat to North Carolina. I'd get started after the new year.
---
NEXT ENTRY ----->