Signing Up
Day -161 (Jan 3, 1999)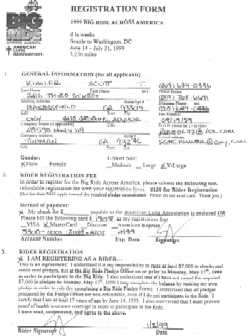 I took the plunge and sent in the $150 registration fee. I'll be one of those thousand riders departing from Seattle in 161 days and pedaling 3200 miles to Washington D.C. I am now committed (perhaps in more ways than one, ha-ha). For me, the biggest hurdle about the ride will be the fund-raising. I'm not really a people person (though people tell me that I am). Working as a consultant most of my career, I don't often have time to donate to worthy causes. I'm not a joiner and I'm not the type of person that asks for help. I'd rather toil in anonymity and figure things out myself, than ask for help. Fund-raising scares me. I'll have to approach people and ask for help. The one thing that I wrestled with was whether or not I could raise the required $7000.00 to be able to go on the ride. To overcome that hurdle, I've made a promise to myself. I am going on the ride, even if I have to fund it myself. It was that commitment that enabled me to send in the application. Damn the torpedos. I'll raise what I can raise and kick in the rest, if need be. I'm pedaling my ass across the U.S. this summer!
I notice that California continues the battle on cigarette smokers (yay!) I feel good about helping to battle lung health. I've never been a cigarette smoker and it's just sad to see so many people suffer. California just instituted another cigarette tax on Jan 1st ($0.50 per pack). Cigarette smokers, of course, are upset, according to the local newspaper.
California has been leading the fight against smoking. Several years ago they banned smoking in the workplace (which included restaurants, supermarkets, and office places). Bars were exempt. Airlines followed suit and banned smoking on planes (yay). My recent flight to North Carolina to visit my girlfriend's folks was an interesting lesson on how much Californians have gotten used to a smoke-free environment. At the Bakersfield airport, smokers have to go outside (100 feet from the building, according to the law) to smoke. In the Memphis airport, smokers are relegated to glass enclosed rooms (which happened to be jam packed with both smokers and a grey haze). It looked very odd. But, in the Raleigh-Durham airport? (Sir Walter Raleigh ... you remember him from history lessons and cigar box covers?) Smokers was allowed everywhere and smokers were intermixed with non-smokers (so everyone smokes, either directly, or via second-hand smoke). Boy did my clothes stink! Yuck.
Just last year, California passed a no-smoking law for bars. This move has been met with much debate and with varying compliance. Even now, a year later, the local paper reports that many bars are not in compliance. Still, as a non-smoker, it sure is nice to live in a relatively smoke-free state!
---
NEXT ENTRY ----->