Starting to Train & Raise Funds
Day -141 (Jan 23, 1999)
Much has passed since I signed up for the ride. I have officially notified OXY of my commitment to ride with a letter. I have formally requested, and was granted, a 3-month leave of absence. This is a stratigic move on my part, though I wonder if management-types will learn of my desire to 'retire early' by reading this web site. (I figure it unlikely, but when I promised myself to keep an honest accounting of my Big Ride experience ... I wonder if I was a bit too forthright?) Oh well, I guess it's too late now. The cat's out of the bag. Damn them torpedos. Full steam ahead.
On a brighter note and dispite the fact that I'm not much of a salesman, I've managed to convince 5 people to sponsor my ride. I've collected $500 in pledge money. (Admittedly, $250 came from my girlfriend. In her, I have no bigger fan!) I started a wall-chart at work, tracking my fund-raising progress. Boy, there's a long way to go!
Training for this ride seems about as far along as fund raising: I'm just getting started. A trip to Houston, last week, for an petroleum industry training course, prohibited any training. To date, I have been on three training rides. The first was 15 miles along a flat river-route, the second was nearly 10 miles and the third (my first big climb) was 13 miles. As I panted and sweated and slowed to a crawl up that climb, I could think only of the Rocky mountains (and all of the other mountains and climbs I will encounter this summer). They will be much longer in duration, much steeper in repose, and I laden with more worldly possessions (as I'm thinking I might take panniers to haul rain gear, food, etc.) I have a long way to go before I am ready.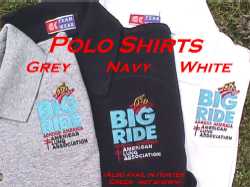 On the flight to Houston, I was looking through an inflight magazine and spied an add for knitted polo shirts, emblazoned with "your company logo". That gave me an idea! If I collected $10 from sponsors, it would mean that I'd need to get over 700 people signed up. That's a lot. However, if I could raise that donation to $100 per person, instead of $10, that would mean only 70 people need to sign up. That seems more 'do-able'. How to raise the bar? What if I had polo shirts made up, with the Big Ride logo, and offered a free one for donations at or above $100? I'd rather spend $600 ordering shirts and raise $7000 than save $600 and only collect $3000! I went ahead and ordered a set of 24 cotton shirts. Maybe I can even expand this idea into a 'Big Ride' clothing line to help raise money for the ALA! (I did. Order your stuff here)
I was told that OXY won't be able to contribute as a corporate sponsor. The oil industry continues its bottom-feeding ways, blind and feeling its way along a barren and muddy stretch of a stagnating pond. The pond is slowly drying up and the number of fish remaining are becoming lethargic and mean. Not a school of fish in a giving mood. There was a recent article about OXY in the local paper entitled, "OXY Joins in the Cutbacks".
---
NEXT ENTRY ----->