Falling Behind with Everything!
Day -119 (Feb 15, 1999)
I'm just falling behind in everything because of training. I'm riding about 50-60 miles a week, which (right now) means about a 30 mile ride on one weekend day and a series of shorter (8 miles or so) rides during the week. Somewhere in there I need to trim trees, shop for groceries, fund-raise, clean house, do laundry ... oh yeah, and work full-time! I'm also behind of finishing the kitchen remodel and then ... to add insult to injury ... my computer died and I lost everything on it. I had to reinstall the operating system and try to restore backup files from a variety of sources. (Hello! I have time for this?) On the upside, I'm getting excited about the upcoming summer and that helps me to keep a smile on my face.
I'm keeping a log of my training mileage, which helps to motivate me (that, and knowing that I'll be climbing the Rockies this summer)! I want that to be as painless as possible, which translates into training, training & training. I'm not too worried about one 80-mile day, it's getting up the next morning for another 80-mile day (or a 100-mile day), followed by another, and another, etc.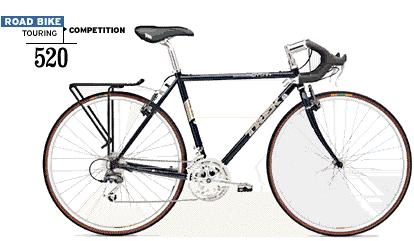 I've ordered my bike for the trip (a TREK 520), which is a steel-frame touring bike ($1100). Think of it as a "Chevrolet" of bicycles, though heavy as a tank, it is built for long-haul riding. (I'm thinking that I might want to do some self-supported touring in my retirement, so I figured that this bike would suit that purpose nicely). I was hoping that a local sports store "Action Sports", owned by a buddy of mine (Kerry Ryan) would support my ride by donating the bike. While he didn't donate it, I did get him to agree to let me buy all the gear I need at cost. The Trek was $800, for example.
I'm up to about $750 in donations (collected) and over $1000 (pledged). Still no corporate sponsors, but I talked with SGI (Silicon Graphics) and APS (Aerial Photomapping Services) yesterday about that possibility. I'll probably get a personal pledge from the president of APS, but no corporate sponsorship (much of their business is related to oil and it's been tough to make any money there). We'll see. Still seems like such a long way to $7000.
---
NEXT ENTRY ----->