Dreaming about Fund-Raising
Day -94 (Mar 10, 1999)
Collected fund-raising total is now $2,800. My employer has stepped up to the plate and promised $1,000, contradicting an earlier "no". I wish I could say that it was because of my persistance, but I think Bill Evans (Manager Technical Services) spoke to the executive team and pursuaded them to pony up a pledge. (The 'good-old boy' system hard at work). Thank you Bill Evans!
One of my co-workers listens to the radio during the day and said that my upcoming interview about the Big Ride has been getting some air time on KLLY. I'm nervous about going on-air, but it should be a fun experience.
I went online to see if I could find any 1998 Big Riders, to ask for advice and pledge support. I found plenty of the former, but little of the latter! (I did get one 1998 rider to sponsor me, (Rod Deluhery) but that was it). Thank you, Rod.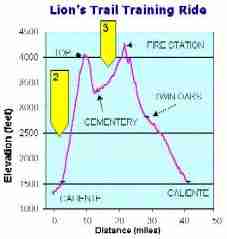 I've put in 400 miles of training and have switched completely to my new Trek 520 Touring bike. I joined the second, local ALA training ride last Sunday. We rode from the Kern River Parkway to the small farming town of Shafter, via country roads, stopping in town for a big breakfast/brunch. It was fun. Pat and Misty (a co-worker & friend) have both signed up for the local ALA "Little Big Ride". They made it to Shafter and back just fine, though both still report being very sore. For me, it was kind of a 'day off', having done a rigorous 45 miles the day before, the first 9 of which were uphill (Caliente to Walker Basin via "Lion's Trail" and back). The outside of my left knee bothered me quite a bit after Saturday's ride. I figured Sunday's 45-mile ride to Shafter would be a respite for the knee. I continue to adjust my new bike, this time moving the seat a bit higher and it seemed to help some.
The group fought a slight head wind out to Shafter and I was a bit worried that Pat was going to have a rough time. She made it and didn't complain, but her knee-caps hurt the following day. Misty did great. One poor woman, a neophyte rider, went all-out with her equipment, buying a new top-of-the-line Trek Road bike. She was at Action Sports the same time that I was picking up my bike. Anyway, she bought clip-in pedals, like mine, and, as she approached a rest stop, forgot to unclip before she came to a full stop. She fell to the side, her feet still clipped into her pedals. She landed right on her kneecap (apparently the second such occurrence) and had to sag in the support van the rest of the way to Shafter and back. She appeared to be in quite a bit of pain. Everyone had been drooling over her bike and gear, but not her 'skills'. More evidence that the equipment does not make the athlete.
I really can't give her too much grief, because I'm having a difficult time adjusting to the new clip-in pedals as well. The idea is that you can gain further power by pulling up, as well as pushing down, on each stroke. For me, that just means that my butt gets ground into an already too-small seat and it's not a pleasant sensation. I too, have forgotten to unclip a couple of times. It's all too easy to do and by the time you figure it out, you're already at (or near) a full stop. Having lost all forward momentum, you begin to topple over. The reflex is to simply move your leg out to catch your fall, but it's not the same movement that's required to unclip and so, you remain, helplessly clipped in and you crash to the pavement, feeling incredibly stupid. The only fortunate thing for me is that I generally tuck my knee in and don't land on my knee cap. Still, I'm coming to the conclusion that I don't get a tremendous amount of benefit from clip-in shoes and they are, quite frankly, bloody dangerous. (They're also difficult to walk around in, recessed clip or not). I suppose that I'll get used to them. (That, or break a hip!)
Joe DiMaggio died yesterday.
---
NEXT ENTRY ----->