Wildflower Century 1999
(San Luis Obispo Bike Club Ride ... not the one in Chico)
Day -50 (Apr 24, 1999)
My first century ride. (That's a 100-mile ride, in bike lingo). Knowing that the Big Ride will average 80 miles per day and have a number of century rides, I thought it best to experience at leastone 100-mile run before leaving. Lots of cyclists, of which I have yet to consider myself, said, "If you're gonna pick just one century ride, the Wildflower Century is the best. It's a fun ride through some wonderful terrain."
Having attended the University of California at Davis (bicycle capital of the U.S.), I was familiar with the concept of a century ride. At the time, and I suppose even now, the city hosts a grueling double-century (200-mile) ride each May. I never participated, primarily because I was concentrating on studying, but also, because such an endeavor has always seemed nonsensical to me. I had an old college girlfriend, Victoria Lewis, who trained, rode and completed the Davis Double Century (her crowning athletic achievement, I believe). Two hundred miles in one day is a lot. If memory serves, the ride starts first thing in the morning and many riders end up cycling well into dark, in an effort to complete the course. While I was there, a rider was killed at night because she wasn't seen by a passing motorist. Not to take anything away from Victoria's achievement, but why would anyone ride 200 miles in a circle? Hello? If you're going to pedal 100 or 200 miles on a bicycle, you ought to, at the very least, end up somewhere different than where you began.
I set my personal distain aside and signed up for the Wildflower Century, along with many of the OXY cycling folks, Pat and Misty included, and paid the $40 or so that it cost to register. (You get a ride-day lunch and a t-shirt as part of the registration package, so you do get something for your money other than just the privilege of cycling on public roads, in a circle, with a printed number on your back). They limit the number of riders to 1000, and there was some concern that some OXY riders wouldn't make the registration list before the cut-off, but everyone did. I should mention that neither Pat or Misty were planning on a 100-mile ride, nor were most of the other OXY cyclists. The ride offered two other routes, one 50-miles in length, the other 75.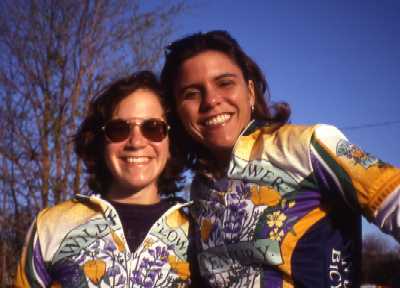 Pat and I skipped out on all the pre-ride festivities, arriving at the starting point (Creston, CA) early in the morning and hooking up with the other OXY riders there. We picked up our ride materials, including our rider number, t-shirt and, because we opted to pay extra for it, a ride-jersey. Because this was my first organized ride, why not pay the extra and get a spiffy jersey? I'm glad I did. This year's design is fetching and it'll be something to wear this summer to foster the illusion that I'm an experienced cyclist.
The morning's ride was pleasant, after we left the starting gate, having waited for our staggered start time. I was worried about knee pain, but spinning was effortless and the cool morning temperatures, hillside wildflowers, and clear views made for a nice ride. There was a bit of a bottleneck along Shell Creek Road, as the Wildflower riders had to wait for a filming crew complete another take of an automobile commercial. Of all days to film on this stretch of country road, they selected the same day as the Wildflower Century to close the road in 20 to 30 minute intervals. I waited, along with a raft of other riders, for another break in filming. After a 20-minute forced pit-stop, we were allowed to pass and were greeted with verdant, wildflower-dotted hillsides, riding along a nearly-abandoned stretch of gently ungulating pavement. The rest of the ride into the lunch stop, in Shandon, was equally effortless and beautiful.

I wolfed down a quick lunch, worried about completing the remaining amount of miles, knee pain, and the gathering wind. I must've passed along Shell Road at a good time, because later riders reported a passing motorist throwing down box loads of thumb-tacks along the roadway, causing a pandemic of flats among the riders and satisfying some warped sense of humor of the cycle-fearing driver and his accomplice.
Back on the road again, I fought a crosswind as I made my way out of Shandon, headed back towards Creston, along a different route, first following straight roads, but ending up on a steeply climbing, winding country road that aimed my nose directly into the wind. It was a slow chug westward, ever-climbing and it took forever for the crest to come into view. After a frustrating descent, unable to gather adequate speed because of the headwind, I came to an intersection. It was tempting to go left and follow the short-ride route back to Creston, but I did the noble thing, turned right and continued on with the rest of the 100-mile ride.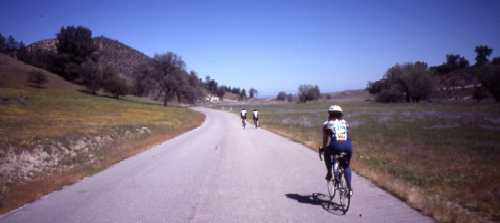 The wind abated only a bit, as we ducked into a semi-sheltered valley, passing vineyards and horse farms, obvious signs that property values were increasing. Large home and mansions dotted the scenic, hilly country-side. The knee pain that began on the windy climb before Creston, now was fully raging, each stroke shot a knife of pain through the outside ligiments of my knee. The sun was low on the horizon and I was ready for the cycling to end. The 100-mile route took another turn, but noting on the map that a decision to go straight would lead me back to Creston, I decided to wimp out and cut the route short. I never completed my first 100-mile organized ride, arriving in Creston with just under 90 miles showing on my odometer. No-one but myself, and Pat, I told her, knew or cared about my shortcoming. (Pat had experienced her own devils and had SAG'd the remainder of the 50-mile course, not being able to make it up the same steep climb out of Shandon, succumbing to the energy-robbing headwind).

Feeling somewhat deflated after all the wind, miles and knee-pain, we loaded up the bikes and tiredly made our way back to Bakersfield. We drove home along the same route we had recently cycled, leaving Creston. And, as if the Gods were already frowning on a failed cycling day, I received a traffic ticked from a CHP officer, the only oncoming car we saw on this isolated, curvy stretch of road, when he caught me cheating the double-yellow line on a particularly tight, inside curve. "You're the kind of person that causes accidents," he said, handing me the ticket. You don't argue with the law, but I've been cheating inside turns since I was neophyte driver. I've never caused an accident cheating a curve, always leave plenty of room to maneuver back should the need arise, and been accident-free since 1985. I told him to have a good day and headed home, exhausted, knee-throbbing, and dejected about my sub-90-mile, ticketed day. I shouldn't have felt so badly about the ride. I was still recovering from an illness and, looking at the ride profile, (total elevation gain) and factoring in headwinds, it was a tough ride!
The beer I had when I got home was well-deserved and tasted mighty fine.
---
NEXT ENTRY ----->