Day 1 - Paso Robles to Cambria
STATS @ 7:58 PM: 54 ºF / 40.5 MI / 12.3 AVG / 35.9 MAX / 3h 16m RIDE TIME
Day -30 (May 14, 1999)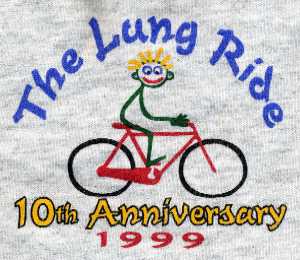 Just a month before the Big Ride Across America begins and I'm embarking on a similar ride, also benefiting the American Lung Association. This ride is called "The Lung Ride", but I've coined a different name, in honor of Lt. Colonel Custer - the "Little BigRide" (Little did I know, at the time, that we would be cycling past that very battlefield, in South Dakota, on the Big Ride. So, it turns out that my little play on words would end up having a double meaning. It would have pleased me, to know that then, and think myself clever).
I didn't feel very clever at 7 AM, standing in the parking lot of Cal State Bakersfield, I just felt tired - it was too early! Two large buses were idling nearby, as I sipped a steamy coffee. Pat, Misty, Caren, and I registered with Sharon and passed over our bikes so that they could be loaded into one of two Ryder rental trucks. There were already several rows of bikes in the trucks, 8-10 bikes wide, eached wrapped with a packing blanket and standing upright. We stood around in the chill of early morning, consuming a quality, nutritional breakfast (dohgnuts & juice) and talking with all of the other OXY riders. Sharon subjected us to a pre-ride speech, prior to boarding. She used a megaphone to blast out her message over crowd and sleepy Cal State campus.
"This is the 10th anniversary of this ride," she said, a mild cheer went up from those fully awake, "and this is going to be the first year that nobody gets lost! For every one of the nine previous rides, we've had to hunt someone down. Not this year. Got it?"
After that brief and rousing pep talk, we boarded two buses, and then took a couple of "victory laps" around the Cal State parking lots (getting the buses out of the lots took a great deal of maneuvering). We were on our way to Paso Robles, near the coast, to begin our day's ride. Looking at all the people on the bus, I understood why Sharon needed to give the pep talk. These were not seasoned riders, chomping at the bit to get 80 miles under their belt. It was a party bus filled with many neophyte riders. I didn't hold out much hope that this year would be any different than the last nine. The atmosphere was festive.
Though she wouldn't likely get lost, Pat was very nervous about stringing together several days of cycling. All the OXY folks sat together on the bus, nine of us, in total, if you included Mike's wife. We chatted amonst ourselves as the buses finally pulled out of Cal State.
This local lung ride is a world away from the BIG RIDE. It's touted as being the only ride where people actually GAIN weight! Riders pay a $35 non-refundable registration fee and raise a $350-minimum ALA donation. The donation covers snacks, meals, the bus ride and one night hotel stay. Many riders simply shell out $350, thinking of it as a vacation expense. My ride was gratis, from Sharon, for my involvement in the Big Ride. I don't think I would have gone otherwise. I was so wrapped up in raising $7,500 that I didn't want to have to raise even more. This ride spans the better part of three days, cycling forty miles the first day (a hilly route through the central coast backcountry, from Paso Robles to Cambria). I'm not sure yet what the other two days will offer. The food, however, is supposed to be great, plentiful and non-stop.
We just turned onto Interstate 5, heading north from Stockdale highway. There is Elk Hills, where many of the OXY people work, off to our left. I smile, inwardly, knowing that it is Friday and the other (poor slobs) are working. They will not be enjoying the experience that we'll be having today. Of course, many are probably thankful of that fact.
The cement highway is very bumpy, even in the relative comfort of this coach. I find it difficult to write and can't wait to get off the highway, onto an asphalt road.
The buses arrive in Paso Robles after about a 3-hour trip. We stopped once, at a highway rest-stop, for a lunch of sandwiches and chips. The buses pull into a supermarket parking lot and we spill out, onto the pavement. Our bikes have already arrived and are already unloaded (no doubt, while we were scarfing down sandwiches). Bikes were laid out around the parking lot in a prone position, on blankets. It looked like a battlefield full of fallen soldiers. Chaos ensued, as everyone moved their personal belongings from the underbelly of each bus and into the empty Ryder trucks, put on riding gear, and began cycling as soon as they were ready. The road out of town was narrow, winding and uphill. With the narrow road and the auto traffic, it was too crazy to notice the landscape. I spent most of my time trying to keep as far right as possible, without running off the road. I began with Pat and Misty, but gradually pulled away, chugging up the hill.
Today I'm testing my right knee, which is still tender from the training rides last weekend. "If I can cycle these three days without pain," I've told myself, "then no doctor visit and no worries." If not, then I'll visit the doctor and continue to worry about being able to complete the BIG RIDE.
The afternoon is sunny, but the air is fresh & cool, a contrast from Bakersfield. The hills are green and it is a beautiful spring day. Leaving Paso Robles, we continue to climb and the traffic, thankfully, thins considerably. I'm riding alone now, for several miles, then pass a group of riders whom I don't know very well. They make fun of my panniers and all the gear that I'm hauling, yet still having enough strength to pass. I tell them not to be fooled, "My panniers are filled with Styrofoam peanuts!"
The first SAG stop is about 8 miles into the ride, at the top of the steady climb that we have been enduring most of the way out of Paso Robles. I eat a banana and wait for Pat. She and Misty are nowhere to be seen. I wait 5 minutes, then 10, after which, I decide to keep moving forward. There was a 'more difficult' route option out of Paso Robles, but things were so confused in the parking lot that I missed the turnoff. I'm following the route followed by most riders. I race down a nice downhill run and now I'm pedaling my way easily among farms and ranches in the Coastal Range. There are periodic sweeping wistas of the surrounding hills, pastures, cows (at whom I "moo"), and an abundant assortment of wildflowers - sweet peas, lupine, wild pansies, thistles, etc.
The second SAG comes quickly. I stop to say 'hi' to a few unknowns, field a few questions about the BIG RIDE (most people know I'm going) and then I clip in and am on the road again. There is a third SAG stop, at mile 18 or so, and there I hook up with some of my training friends. They found the more difficult ride option out of Paso Robles and were just getting ready to head out again. I joined them, missing out on caramel apples and a brief rest.
We join highway 46, riding on the wide shoulder, but are passed by many speeding cars. It's not a pleasant ride segment. The cars and trucks are noisy and cause me to be watchful for the ever-possible idiot driver in my helmet-mounted mirror. After a few miles of whooshing cars and thundering trucks, we come to the fourth and final SAG, just off the road at the bottom of a hill. We rest there and then deviate off of the official route by heading up Santa Rosa Creek road. This is a great bike road, because it is a quiet, country road, but it's very steep in a couple of places and not made of the best pavement. It does, however, have spectacular views, few cars, and is a very scenic byway past farms, vineyards, and sun-dappled creek. Along this detour, we spot deer and wild turkeys. Larry gets a flat and Patty complains that she has to pee. There is a big, steep climb where the road is so vertical that, in my lowest gear, sitting on my seat, I raise the front tire off the pavement with each stroke - that's steep! Gaining the crest, Patty can't wait anymore and darts off in the bushes to water the plants. Only seconds later, she emerges, with two dogs on her heels. They scare her from completing her task, to the merriment of all waiting. The dogs venture out to sniff the riders and while Patty can't pee, the dogs can and one does, right on my bike!
We race down a curving, steep downhill, following a stream that lets out into a narrow-walled canyon. Small farms dot the terraces on either side of the stream and one has a fruit-stand and gift shop. We stop there and Patty finally has an opportunity to relieve herself. We eat a pie and roll into Cambria School, our overnight camping spot, in good order. The wind has picked up in the last half hour, but we keep a brisk 18-mph pace into camp. A few riders are there already, but we are among the first in. We set up our tents in the increasingly stronger wind. By the time I set up the tent, grab a shower and head back - Pat has arrived. She rode nearly the whole way, getting 'SAG'd' about 5 miles into the steepest portion. I'm proud of her for making it as far as she did and not being embarrassed to SAG when she needed it. It was a hilly and tough ride.
We ate our tri-tip and BBQ chicken dinner in a cold, biting wind. The strawberry shortcake dessert helped. Pat is exhausted. We headed to bed right after dinner, but take the time for a quick walk to a nearby meadow. We sit for a moment and listen to quail, wild turkey, mourning doves and other birds and watch the setting sun.
It's now 8:33 PM and I'm writing in the waning light. All is still, the wind has finally died down. About half of the riders are staying in hotels (the 'foo-foo' crowd) and another quarter have moved their tents into the gymnasium, to get out of the wind. There are only about 15 tents left scattered about the football field. We're pitched off some distance from the others, for privacy and quiet. It is very quiet. Only the crickets are making noise. It is time for bed. My knee feels good and I am much relieved. We have a choice of either 40 or 70 miles tomorrow and I'm thinking I might go for the 70-mile option.
Tonight is the first field-test of my BIG RIDE tent (a Kelty Streamside II). It went up fine in the wind and held firm, letting the wind spill over the streamlined design. Other tents, with higher profiles, were blown away! One even collapsed in on itself in the wind, despite being securely anchored, the roof just bending to the floor with each strong gust. The tent will work well for my ride and I'm hoping the mesh top will help keep me cool on warm nights, though tonight, we put on the rain fly, because it is cooling rapidly.
---
NEXT ENTRY ----->