- The BIG RIDE -

What is the Big Ride? - The American Lung Association is very excited to present the Big Ride Across America. Approximately 500 riders from across the country will participate in this event. These are determined and thoughful individuals that will form a community that will make a tremendous difference in the fight against lung disease. The goal is to raise awareness and funds for the ALA (American Lung Association) to help them fight lung disease. The money raised will provide continued life-saving research for cures and better treatments, public education, patient service programs and support efforts to protect all our lungs from the threat of environmental hazards. These event riders will depart from Seattle on June 14, 1999 and arrive in Washington, D.C. on July 31, 1999. For more information about the ride, visit the official BIG RIDE website.

What is the route and mileage? - The route will follow primarily secondary roads across America. Riders will ride their bikes approximately 80 miles per day, covering over 3200 miles by the time they reach Washington, D.C. Click here for a picture of the route and overnight stops.

Who are the riders? - The riders make up a diverse cross-section of people from all over America. This event is not a race, so there are many people participating in the event that have never ridden a bicycle very often. Needless to say, newer riders will have to train a great deal before the ride, so that they are able to ride 80 miles a day, day after day! Click here to find other 1999 riders on the web.

How much does it cost? - There is a $150 registration fee for each rider to participate. Beyond that, each rider is responsible for raising $7,000 in pledge money to donate to the ALA. Each rider is also responsible for their own gear (bicycle, tent, sleeping bag, clothes, etc.). They must also make their own travel arrangements to Seattle and, home again, from Washington D.C. Riders will also be responsible for lunch each day and dinners on days off. The ALA is providing SAG wagon support, dinner and lunch, logistical, emergency and repair support for the riders while on the ride. Find out how I'm doing with my fundraising efforts.

Is this the first year of the event? - No. This is the second year for the event. Last year, over 730 riders participated in the inaugural ride, following nearly the same route. These 730 riders raised over $6,000,000 for the American Lung Association. Many of the riders kept journals and took pictures that they posted on the web. Click here to find out what some of them thought and saw on their big adventure.

Is this year's ride different? - Yes. Last year, the ride had a single, major corporate sponsor (GTE) that heavily promoted the ride. As a result, many more riders participated in last year's event. Also, logistics were handled by an outside (for-hire) management company. This year, there are fewer riders, a larger number of smaller-contributing corporate sponsors and the logistics are being handled by the ALA directly (to help save money).

How much money is raised? - The ambitious goal of the 1999 Ride Across America event is $3.6 million.

Where will this money go? - All proceeds from the event go directly to the American Lung Association. 90% of the net proceeds raised by the riders will go back to the local ALA chapters in their communities. 10% of the net proceeds will go to support national programs.

How can I help? - Ride in the event, if you can! It's not too late to get involved. If you can't ride in the event, you can volunteer as crew. You can volunteer for different ride segments (Continental Jun 14-Jul 31; Pacific Jun14-Jun 23; BigSky Jun 23-July 4; Heartland Jul 4-Jul 18; BigTen Jul 18-Jul 23; or Appalachians Jul 23-Jul 31). Email the BigRide people if you are interested. But the best way to help is to help Scott in his fund-raising efforts.

What's the biggest mileage? - The longest single-day ride is 113 miles, from Sheridan, WY to Gillette, WY. (The shortest day is 51 miles, from Billings, MT to Hardin, MT).

What is the highest elevation? - The highest elevation along the ride is 7,000 feet, near Avon, MT.

How many states do you see? - The riders will pass through 12 states (and into the District of Columbia). The states are: Washington, Idaho, Montana, Wyoming, South Dakota, Minnesota, Wisconsin, Illinois, Indiana, Ohio, Pennsylvania, and Maryland.

Do you ride every day? - No. The event will span 48 days. Of those 48 days, there will be 8 rest days on the road. Generally, there will be 4-5 ride days, followed by a rest day.

On the Ride

How long will you ride each day? - The route will open at 6:30 a.m. and close at dusk, each day. For safety reasons, no riding will be permitted before or after these hours. Riders may choose to leave anytime after 6:30 a.m. and take as long on the day's ride as they like. Strong riders may veer off to do some sightseeing or to woof down fish tacos at a local dive. Less strong riders may take short breaks during the day, resting before the next leg.

What kind of roads will be used? - Most of the route will be on secondary roads, so-called "Blue Highways". These roads will likely be the smaller state or county roads. They will have surfaces that vary from very smooth to rougher and have shoulders of varying widths.

What if you make a wrong turn? - At check-in, riders will receive a Route Map which details each day's route. Also, the route will be clearly marked with signs to indicate turns to help guide Riders. (This will be particularly beneficial where it is easy to get sidetracked.)

Will you take breaks each day? - Sure! It's not a race (thank God). Throughout each day, PIT stops will be set up with water and nutritional replenishment to keep riders going on the day's route There will be one major checkpoint at mid-day / mid-mileage. This checkpoint will have water, medical support, tech support and facilities (porta-potties).

What if a rider can't finish? - If a rider is injured or cannot physically complete the entire day's route, Support and Gear (SAG) vehicles will be roaming the route to pick them up. Please note that SAG vehicles are not taxis; therefore, riders should prepare physically for the rigors of riding.

What if a bike breaks? - Repair technicians on the bike tech crew will be on the road, at designated STOPs, and at camp to assist with bike ailments. Riders are required to fix their own flat tires. These technicians are provided without labor charges, but riders must pay for parts. In addition, ALA crew will be using HAM radios and cell phones as a mode of communication along the route to help facilitate problem solving.

Will riders bring spare parts? - Riders are encouraged to bring extra tubes and a folding tire. (Riders will need tire irons, hand-pump, tube, tube repair kit and folding tire on the road each day). Riders can bring other parts, as they see fit. However, there will not be room to bring extra wheels or spare bicycles. Riders can purchase a limited amount of supplies from the Bike Technician team. Keep in mind that the route will take us through small towns, many of which will have local bike shops and supplies.

How much gear will riders take? - There is a 70 lb. weight maximum for rider's personal effects. This includes a tent and sleeping bag, clothing, riding gear and other items.

Will riders carry their gear? - No. The ALA provides a gear truck that will be outfitted with compartments that are roughtly 20"x20"x36". These gear trucks will transport the gear and riders willl pick up their gear at their specified truck when they get into camp, and check-in their gear into their specified truck in the morning. Riders will be responsible for loading and unloading their gear each day, as well as setting up and dismantling their tents. While the weight limit is 70 lbs., this can consist of more than one bag. Keep in mind that gear may have to be hauled over a field or large space.

Where will riders stay? - The ALA crews will transport gear each day and stake out a "tent city". Riders will be assigned a location in that city (an 8'x8' area) and that location will remain the same from night to night. Camps will be located in stadiums, on school grounds, in fields, anyplace that ALA personnel and communities have pre-arranged. There will be aisles for walking between rows of tents. ALA requests that riders set their tents up on either side of these aisles, enabling easy access to tents. (Watch out for tie-downs at night!)

Riders use a tent each night? - Yes, they do. Two things will become very, very important to riders on this trip: their bikes and their tents. They will the majority of each day in direct contact with one or the other. Their tent is their only private space for six and a half weeks. It should have enough room for the rider and their gear. It should be easy to set up. Riders will need to bring a one or two-person tent that includes a rain shield (large 4-5 person tents will not fit in the allocated 8'x8' space). Please do not bring a larger tent than will fit in this space, since we will be plotting out tent areas based on the smaller tents.

What about showers? - The Ride is fully contained (showers, wash and toilet facilities). The ALA will provide custom tractor trailers containing showers with hot/cold water and changing areas. Stainless steel sinks will be set up outside the shower areas for brushing your teeth and washing up. Portable toilets will be set up at camp and at the PIT stops.

How will riders eat? - The ALA will provide a carefully planned breakfast and dinner menu for the entire event, provided free to Riders, and Crew. Except for dinners on days off. On those days, everyone will be on their own. Meals will not be available for guests or other non-participants. Vegetarian meals will be available through advanced notice. Lunches will be the rider's responsibility. Crew will provide riders with information and resources to help riders decide on how to obtain lunches on the Ride.

Will there be a headquarters? - There will be a "Camp Services Tent". Camp Services will be the campsite information booth, staffed by the Camp Services crew. At this tent, riders and crew will be able to leave and retrieve messages, obtain an updated campsite layout or view a large siteplan, ask questions and get directions.

What if it rains? - In the event of rain, the Ride will continue. In training, riders should prepare for riding in inclement weather. In extreme weather, Ride Officials will have the authority to temporarily stop all riding if conditions warrant it. Riders are expected to always follow instructions or directions given to them by Ride Officials.

What about Emergencies? - The Medical Crew will be handling all medical situations on the Ride. In addition, the crew will have comprehensive information on local hospitals, emergency facilities, police, fire and other services throughout the route.


Virtual BIG RIDE
(excerpts from "The Big News" newsletter)

(Jan99 Issue) Washington - Washington is a unique state. It contains multiple micro-climates. Throughout your journey through this state, you will encounter the potential for snow, sleet, rain, heat and high desert. Quickly varying weather, rain and sleet is possible. Dressing in layers and having your rain gear readily available is recommended.
Day One's route will wind out of Seattle and over Snoqualmie Pass, gaining 3,000 feet in altitude. If you were, or still are, a 'Northern Exposure' fan, Day Two will lead you through some familiar territory as we ride the winding and rolling Cascade highways and into the Yakima Valley. Day Three will take you through high desert, partially on the Hanford Nuclear Reservation. The morning will start cool, but will go into high temperatures and steady winds to the banks of the Columbia River in Kennewick.
Day Four is a rest day. You've earned it. Kennewick is a great town with places to shop and eat locally, maybe stocking up on those things you now wish you had brought along. We camp right on the river and sunset is a spectacular sight. Enjoy! Day Five follows a route through the long rolling hills of western Washington farmland, through Walla Walla (famous for sweet onions) and other quaint small towns. On the morning of Day Six, make sure you have your camera, as we are headed for Clarkston and Lewiston (names after Lewis and Clark). Welcome to Idaho!

(Feb/Mar99 Issue) Into the Rockies - Riders still talk about the pristine beauty Idaho offered during the 1998 ride. Day Seven continues into beautiful scenery as we make our way through the Nez Perce Indian Reservation. Most of the rute consists of two lane highways along Clearwater River. Idaho is a logging state, so expect logging traffic with some narrow sections in the roadway. The route into camp on Day Eight passes through the Clearwater National Forest. Make sure to get plenty of rest the night before, because most of the day is spent climbing a long gradual grade. This area is, by far, the most primitive we pass through; make sure to enjoy the beauty. Don't stay up too late watching the stars! Day Nine, we have an 11-mile steep climb out of camp over Lolo Pass (where Lewis and Clark stayed) and a 7-mile rip-roaring-screaming downhill into Montana. Be aware that quickly changing weather in the mountains can lead to slippery roads. Did someone say Hot Springs? Yep, at mile 24. Enjoy!
Day Ten. We've earned it, our second rest day. Missoula, Montana is rolling out the red carpet. There is plenty to do, see and eat, including a BBQ in the park where all the local restaurants come to show off! They're getting ready to whoop it up and show how much we are appreciated for our incredible efforts!
Day Eleven is a 'century ride' (100 miles) across the vast high plains. The view is breathtaking. Remember to hydrate and not skip meals, our bodies are using tons of calories. The overall traffic is light, but expect a couple of long climbs in the afternoon. Oh yes, we are now in cattle country. Watch for livestock and their messes on the road!
Though Day Twelve is short in terms of mileage, there are many challenges. Out of camp there is a brief warm-up leading to a 4-mile climb over MacDonald Pass - the Continental Divide. As we experienced in 1998, the weather can be unpredictible (it snowed)! Dress appropriately for the day. The mid-way point today is Helena, Montana, the state capitol, with plenty to do and see as you pass through. We finish the day with a relatively flat cruise into Townsend.

(Mar/Apr99 Issue) In the Rockies - Day Thirteen is a long day across the high plains from Harlowton, MT with one pass of about 1,200 feet (small in comparison to what we have climbed so far). From then on, we will encounter light rolling hills surrounded with ranching pastures. Don't be shocked. People in this part of the country wave and smile.
Day Fourteen is a trip into Billings, MT and is a bit longer in length with medium rolling ranchland. No worries though. Day Fifteen is a day off. Be ready to see this part of the country as nature intended. There is more to do in and around Billings than your laundry. Historic homes, a thriving downtown, and the Western Heritage Center will keep you busy.
After a rest, we see that Day Sixteen is a short day. We will encounter one small canyon early and we must still keep an eye out for livestock and other creatures that might cross your path.
Closer to an average mileage day, Day Seventeen takes us past the Little Bighorn Battlefield, along the edge of the Crow Indian Reservation and into the state of Wyoming. There is a lot to do and see, so plan your day accordingly.
Day Eighteen is a long 'century day' across the western range filled with long rolling hills. This is probably not the day to hammer out the miles. Pace yourself (and pray for tailwinds). The day's vehicular traffic will be light.
On Day Nineteen, we pass an open pit mine and travel into the western rangelands. We leave Gillette, WY and the morning will be relatively flat, but the afternoon will bring long FUN rollers. They look hard, but keeing your momentum will help. Remember, this is cattle country, so watch out for cattle trucks. Get rest tonight, there is a long day tomorrow. We're headed into the Black Hills of South Dakota.

(Apr/May99 Issue) Black Hills - Day Twenty will put our training to the test (of course, we will probably be in the best shape of our lives by this time - or dead!). We will climb and descend a total of about 3,000 feet in the the Black Hills. We are traveling at the summer peak, 4th of July weekend. Be aware of safe riding. There will be one 4-mile stretch where the ALA has arranged a vehicle guide to safely navigate ALL riders through the narrow roads of Custer State Park (a beautiful park and a quaint town - Custer). There is an up side to this long day. Day Twenty One is a rest day in Rapid City, SD!
OK. We've had our day off for the 4th of July festivities. Maybe some of us will visit nearby Mt. Rushmore. Get some rest too, because Day Twenty Two is a long one. We are riding in some reeally beautiful country past the Badlands. Stock up on extra food and water.
Welcome to the Plains on Day Twenty Three. Miles and Buffalo Gap Grasslands. This is a high desert and the weather can be hot, windy, with miles and miles of rolling farmland, tiny towns, nice roads, grasshoppers and beautiful sunsets. If you are new to farming, you won't be by the time we reach Washington, D.C. We will know why soy beans and corn are always planted next to each other. We will even find out what all of those HUGE machines are used for and named. We'll know the difference between a combine and a planter. The Plains continue during Day Twenty Four, filled with more farms, farm implements, farmers, farm animals, farm towns, and (yep) even more farms. If you have environmental allergies, talk to your doctor now about medication. There is a good chance of wind and pollen for the rest of the ride.
You've read the books (or had them read to you). You've seen the TV show. Now is the time to experience, first-hand, the "Little House on the Praire". Day Twenty Five brings you through more quaint farming areas and we will spend the night in DeSmet, SD, near the Laura Ingalls Wilder Museum.
Day Twenty Six. Welcome to Minnesota. Seen any good farms lately? "Oh golly, you betcha!"


Training
| | | | | | | | |
| --- | --- | --- | --- | --- | --- | --- | --- |
| Date | Time | Bike Distance | Cum Distance | Bike Avg Speed | Bike Max Speed | Bike Time | Bike Comments |
| 14-Jan | 2:30 PM | 15.2 | 15.2 | 14.9 | 22.6 | 1:07 | 1st Ride of 1999 - Noodle legs when finished. Yokut to Lee's Ferry & back. |
| 16-Jan | 3:30 PM | 8.7 | 23.9 | 14.3 | 27.1 | 0:36 | Bike Path - Manor to Fairfax, turnaround in oil lease and return on bike path. |
| 22-Jan | 3:30 PM | 13.6 | 37.5 | 14.5 | 36.6 | 0:56 | Manor to Fairfax on path, up old dump route to Thorner, back on Panarama |
| 27-Jan | 4:00 PM | 8.2 | 45.7 | 15.8 | 22.8 | 0:31 | Bike Path - Yokuts to just past Manor (Bluffs sloughed on on path from snow). |
| 29-Jan | 4:00 PM | 12.8 | 58.5 | 16.3 | 21.1 | 0:47 | Bike Path - Beech Park West to Stockdale Hwy (Watched ave speed) |
| 30-Jan | 11:30 AM | 31.5 | 90.0 | 13.1 | 32.3 | 2:23 | Round Mtn - N Chester & China Grade (CounterClockwise) - Whew, made it! |
| 3-Feb | 1:36 PM | 23.2 | 113.2 | 14.5 | 38.5 | 1:36 | Home thru city to Destek then Bike Path to Beach Park and Home |
| 6-Feb | 10:00 AM | 31.2 | 144.4 | 13.7 | 36.0 | ??? | Lost data (wrote on piece of paper and lost it) - 2nd Round Mtn Trip (same as 1/30) |
| 10-Feb | 5:00 PM | 9.3 | 153.7 | 12.5 | 19.4 | 0:39 | Ride with Pat from K.River Pkwy west to end and back. |
| 12-Feb | 4:45 PM | 8.8 | 162.5 | 13.2 | 23.7 | 0:40 | Ride with Pat from K.River Pkwy west to end and back. |
| 17-Feb | 4:30 PM | 21.2 | 183.7 | 14.8 | 38.1 | 1:26 | Yokut to end; up to Destek then Panarama to Manor and Bike Path to Yokut |
| 20-Feb | 10:00 AM | 27.2 | 210.9 | 15.7 | 36.9 | 1:43 | Mike Rosa's House-BikePath-UpBluffs-Panarama-Manor-BikePath-Mike's House |
| 21-Feb | 9:00 AM | 17.2 | 228.1 | 12.1 | 20.5 | 1:25 | ALA Train1 - KRP - BikePathEnd - KRP (with Pat) |
| 27-Feb | 9:00 AM | 41.6 | 269.7 | 14.6 | 39.0 | 2:50 | NEW BIKE - Beach - Round Mtn - Bluffs - Bike Path |
| 28-Feb | 10:00 AM | 17.0 | 286.7 | 12.8 | 23.1 | 1:19 | Ride - KRP - BikePathEnd - KRP (with Pat & Misty) |
| 1-Mar | 4:30 PM | 10.0 | 296.7 | 12.9 | 19.5 | 0:46 | KRP - Manor - KRP (with Pat) |
| 5-Mar | 4:30 PM | 17.3 | 314.0 | 13.7 | 22.1 | 1:15 | KRP - East End - KRP (with Pat) |
| 6-Mar | 9:00 AM | 44.0 | 358.0 | 11.2 | 43.9 | 3:54 | Caliente PO - Lion's Trail - Fire Station - Caliente PO (w/Rosa, McCray, et al) |
| 7-Mar | 9:00 AM | 44.8 | 402.8 | 12.0 | 21.7 | 3:43 | ALA Train2 - KRP - Shafter - KRP (w/Misty & Pat) |
| 13-Mar | 11:00 AM | 5.1 | 407.9 | 5.9 | 31.5 | 0:51 | Keyesville Classic - Spectators |
| 14-Mar | 8:30 AM | 40.5 | 448.4 | 14.1 | 34.8 | 2:51 | Round Mtn - Beach - Round Mtn - Beach (M.Rosa, Larry, et al) |
| 20-Mar | 10:00 AM | 62.0 | 510.4 | 13.8 | 35.3 | 4:28 | Beach - Woody - Beach (Hills - Distance) |
| 21-Mar | 9:00 AM | 27.5 | 537.9 | 11.8 | 32.9 | 2:19 | ALA Train3 - KRP - Hart Park - KRP (w/Pat … slow) |
| 28-Mar | 11:00 AM | 39.3 | 577.2 | 14.4 | 35.7 | 2:43 | Round Mtn - Beach - Round Mtn - Beach (Self) |
| 2-Apr | 10:00 AM | 43.9 | 621.1 | 11.8 | 43.5 | 3:42 | Caliente PO - Lion's Trail - Fire Station - Caliente PO (Self) |
| 3-Apr | 9:00 AM | 30.9 | 652.0 | 13.9 | 36.3 | 2:13 | ALA Train4 - Melodrama - Rnd Mtn (cntrclkwise) - Self - Headwind |
| 17-Apr | 9:30 AM | 20.2 | 672.2 | 7.2 | 37.9 | 2:46 | Arvin up to Bear Mtn (4,800 Elev change in 10 mi!) First ride after being sick. |
| 18-Apr | 8:00 AM | 25.3 | 697.5 | 11.6 | 34.7 | 2:10 | ALA Train5 - Keene Store to Tehachapi (Old Town) - (1,700' Elev Chg in 12 mi) |
| 20-Apr | 5:30 PM | 20.8 | 718.3 | 14.3 | 40.3 | 1:27 | Yokut to end; up to Destek then Panarama to Manor and Bike Path to Yokut |
| 24-Apr | 7:00 AM | 88.2 | 806.5 | 13.0 | 43.5 | 6:45 | Wildflower Century, San Luis Obispo (Big Wind … didn't do last 12 mi loop) |
| 25-Apr | 8:30 AM | 39.5 | 846.0 | 12.7 | 31.6 | 3:06 | Beach - Round Mtn - Beach (Torture!) |
| 2-May | 8:00 AM | 39.1 | 885.1 | 12.8 | 39.1 | 3:02 | ALA Train6 - Rio Bravo - Breckenridge - Fairfax - Rio Bravo |
Scott's BIG RIDE training graph: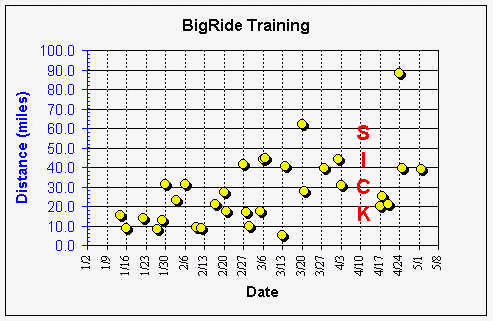 Equipment
The bike - You will be spending 6+ hours a day, for 40 days, pedaling across varied terrain on this bicycle. If you already have a bicycle that is in good condition, great. If not, you are likely looking at purchasing a new bicycle. What to get? Here are some valuable tips:
1) Buy from a local shop, they can help you after the sale. Generally this is best.
2) Build a relationship with the same saleperson. Explain your ride. (Ask them to donate!)
3) Purchase your bike during the winter season. (Bike shoppers are more scarce during this period and you will get more personalized attention)
4) Don't rush on your initial visit to a shop. Find a shop willing to fit you to the bike after you purchase it.
5) Make an appointment to have the bike fitted to you. (Generally, this takes about an hour). Remember that this bike fitting is not final. It's a good starting point. (There are a number of good articles on the web about bike fitting ... here are a few: [1] [2] [3] [4] - Who knows how long these links will be good for. Let me know if they are broken and I'll fix'em)
6) Remember that men and women are fit differently to a bike. (See link [2] above).
7) Make sure you relate any past problems that you have had while riding a bike (hand pain, shoulder pain, etc. This is critical to the successful bike fit.
8) Bike costs range from several hundred to several thousand dollars. A basic bike that is going to be worthy of a cross-country trip and a joy to ride will cost in the $700-$1000 range.
9) Check to make sure the bike comes with quality components (Shimano is a reputable brand). Shift levers on the brake hoods are a real plus (STI).
10) You will most likely benefit from a triple front chainring. It will come in handy as you climb the Rocky Mountains.
11) Clipless pedals will provide power on the upstroke and an, overall, smoother stroke.
12) Kevlar tires, though more expensive, will help to minimize flats. (Expect an average of six on the trip!)
13) SEATS. Where the butt meets the road! This is a very important part of the equipment. Try out different types to see what you find most comfortable. (Hint - touring bike seats are designed for comfort. See what your dealer has along the line of such a seat.) Some people like gel seats, others do not. Some like ergonometrically designed seats (with a hole in the center) and some do not.
My bike - I really didn't have too much of decision to make regarding a bicycle. I knew that I wanted a touring bike. I will use this bike, for unsagged, extended touring trips. Some folks go for the lightest bike money can buy, with all of the latest gizmos and technology. That's great if you're racing. This event is a ride. A long ride. I want my rain gear if it rains. I want my warm clothes when I stop to take pictures and eat a snack at a windy overlook. I want to take my camera, extra food, maps and suntan lotion. I want the room. My philosophy regarding weight is simple. If I want my bike to be lighter, I'll lose a few pounds or take one less water bottle. I've got lots of cheaper places to lose weight than spending an exponentially increasing sum of money for each ounce lost on a bike!
I looked at several manufacturers, but in the end, it came down to two: Cannondale and Trek. Ultimately, I decided on the Trek 520 for three reasons: (1) I wanted the steel frame (rather than the aluminum) because it will last and it flexes (aluminum is stiff and will break if stressed too much). (2) Trek makes good bikes and has a good reputation. (3) I knew the owner of one of our local bike shops and, as support for my ride, he was willing to make me a good deal on the bike. Photo of my (stock) Trek 520 Touring Bike. (I have since added a rack bag, wedge bag, handebar bag, and rear panniers to this bike).
The Tent / Sleeping Gear - The tent will be a rider's private space for 6 1/2 weeks. Here are some suggestions about things to consider when borrowing or purchasing a tent and sleeping gear.
a) Consider floor space. Riders will need room for their gear and themselves, so they can spread out. Consider a '2-person' tent, rather than the lighter, smaller '1-person' tent.
b) How easy is it to set up and take down? Riders will be performing this operation 2 times a day for 48 days. They will be setting up these tents after 100+ miles on a bike. It should be easy to set up. Some tents take a long time. Others go up quickly. Make sure to investigate this feature.
c) The tent will be your home. What makes you feel at home? A pillow, book light, canvas chair, clothesline, pictures? Whatever might bring a smile to a rider's face should be taken (provided it doesn't put them over the 70 lb. limit and fits in a 20"x20"x36" space!)
d) Sleeping bag - At night it is liable to be cold in the west, hot and humid in the mid-west and east. This could mean a temperature range of 40-45 degrees to 80-85 a few weeks later. A light weight bag will work and then riders can bring warm clothes as insurance against those really cold nights.
e) What about a pad or air mattress? Foam pads can be quite hot and there are plenty of other styles to choose from. Consider a thick (2") 'Thermarest' pad. After pedaling all day, your hips might appreciate the extra comfort. These pads are self-inflating and don't take up much room.
American Lung Association


a) Lung disease is on the rise and the death rate from lung disease is climbing.
b) Lung disease is the third leading cause of death in America, claiming the lives of an estimated 335,000 victims each year.
c) For nearly 30 million Americans, the disabling effects of chronic lung disease is a stark reality of every-day life.
d) Lung disease is the number one killer of babies less than one year old, accounting for 31% of all infant deaths.
e) More than one in ten Americans have chronic lung disease, including more than 16 million with emphysema and chronic bronchitis.
f) Asthma affects more than 4 million children under the age of 18 and is one of the most common chronic diseases of childhood.
g) Lung cancer is now the number one cancer killer in America for BOTH men and women.